Man tipped out of wheelchair during robbery in Ordsall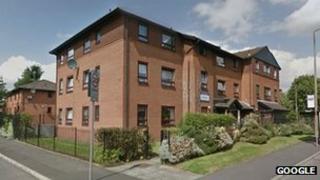 A 60-year-old man was "deeply distressed" after being tipped from his wheelchair and robbed, police said.
He was attacked after a man climbed over fencing and into sheltered accommodation on Oldfield Road in Ordsall, Salford on Sunday afternoon.
Police said the thief pushed him into his flat and tipped him out of his chair before "ripping jewellery from his arms".
Officers said the attack left the man "too upset to leave his bedroom".
Det Con Cathy Blain said the attack was "not only horrible for the victim, but it was also very upsetting for the staff at the sheltered accommodation who found him collapsed in his room after the incident".
She said police were searching for the robber, who was described as being white, of slim build and in his 20s.