Tameside Hospital: A&E and medical assessment criticised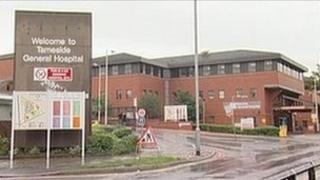 A hospital investigated for high death rates has been criticised for its poor patient care by two independent reviews.
One review, commissioned by Tameside Hospital, found up to eight A&E patients at a time were waiting in a corridor, with one left seven hours.
The review said weak leadership had affected "patient outcomes".
The hospital said the reviews were commissioned because of staff concerns and had responded with an action plan.
Andrew Gwynne, MP for Denton and Reddish, and a Labour spokesman on health, called for a change in management.
The reviews, seen by The Guardian newspaper, found problems in the hospital's A&E and medical assessment units.
'New leaders needed'
Some patients had to wait overnight on chairs before they saw a doctor.
The first review, by the NHS Leeds-based Interim Management and Support Team (IMAS), found "delays in assessment, treatment and admission" in A&E.
It also said consultants spent less time on wards than expected and their presence was often "weak" and "variable".
The second report by the North West Utilisation Management Unit, which helps Greater Manchester hospitals, found several problems.
These included a delay in administering painkillers and patients in the medical assessment and admission unit had to wait several hours before being seen by a doctor.
Mr Gwynne said: "The reports that I have seen in The Guardian do not make for happy reading. It is the latest in a catalogue of problems at the hospital.
"My view - and it is one I have held for a long time - is that we need a change of leadership at the hospital.
"I don't think the hospital is going to be able to move on from these catalogue of errors until we get change at the top and that new leadership then drives through the changes from the bottom up because there are a lot of good staff in Tameside with some really good ideas to improve that hospital.
"They've just not been listened to."
'Specific action plan'
Dr Kailash Chand a GP in Tameside said patients had lost confidence in the hospital.
"They are really then asking us: 'For God's sake don't send us here, send us somewhere else," he said.
A Tameside Hospital spokesman said: "As soon as the reports were received, we sought to substantiate any comments or observations contained in them, although some comments by individuals were not able to be substantiated."
He added: "Within four weeks, we developed a specific action plan to address the concerns in the reviews."
Tameside was one of 14 hospitals NHS medical director, Prof Bruce Keogh, announced in February that he would be investigating over its high death rates.