Tameside General Hospital 'must make urgent improvements' to patient care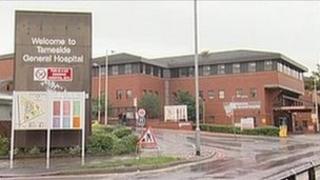 A hospital which is falling below national standards in patient care "must make urgent improvements", the Care Quality Commission (CQC) has said.
Inspectors made unannounced visits to Tameside General Hospital in May.
Their resulting report said the hospital was "failing" in patient care and respect, and service provision.
A spokesman for the Tameside Hospital NHS Foundation Trust said the findings were "not a surprise to us, as we had already identified them".
The CQC document follows two critical reports at the start of July and comes ahead of Tuesday's publication of the Keogh review into potential failings and death rates at 14 trusts, including Tameside.
The previous reports led to the resignations of the hospital's chief executive and medical director.
The trust spokesman said it had "had a full clean bill of health from the CQC as recently as February".
'Real concern'
The inspections in May reviewed the "care and welfare of service users, respect and involvement and also the assessment and monitoring of service provision", a CQC spokeswoman said.
Inspectors found patient handovers were taking place in corridors "meaning that privacy was not always respected" and patient documentation was "incomplete, which could lead to a risk of inconsistent care and treatment".
They also found that while the trust "had systems in place to assess and monitor the quality of service, [inspectors] found that these were not always robust enough to ensure that all risks were identified and effectively managed".
However, inspectors did find that "outside of office hours... there were sufficient numbers of suitably qualified staff on duty to meet patient needs".
The CQC's Malcolm Bower-Brown said the "shortfalls at Tameside are a real concern".
He said inspectors had "told the trust where changes need to be made to ensure national standards are met [and] we will be monitoring progress carefully to ensure it makes the improvements required".
'Specific plans'
He added the CQC would also "await the outcome of the Keogh review and will consider the need for any further regulatory intervention in the light of the review findings".
The review, which was commissioned by the government to look into patient care after up to 1,200 more deaths were reported at Stafford Hospital between 2005 and 2008 than would have been expected, will set out how 14 NHS trusts should improve their care.
A spokesman for the trust said following its own reviews in April, it had "put in place specific action plans to address any issues that this identified".
"As the CQC themselves acknowledge, it was largely in response to the concerns the Tameside Board itself had already identified and begun to address that they decided to carry out a further inspection.
"The findings are not a surprise to us, as we had already identified them. Nevertheless, we are obviously concerned to see its revised assessment.
"We are pleased that the CQC confirmed that all issues they specified had already been identified by us and remedial action was in place at the time of their inspection, so we are confident we will be able to address its concerns."