Nil-by-mouth case family in Salford hospital legal action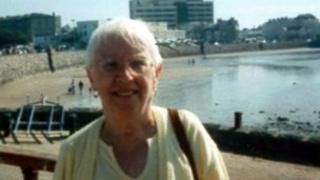 The family of a nil-by-mouth patient who died after she was mistakenly given food and drink is taking legal action against Salford Royal Hospital.
Marion Sampler, 80, died as a result of "a failure in basic care" at the hospital last October.
Initially her family were happy with staff and sent a card and chocolates to thank them.
But an inquest found she died from an infection after accidentally inhaling food or liquid. The trust apologised.
Mrs Sampler, of Ordsall, died at the hospital three weeks after being admitted with unexpected weight loss.
Her family believed she was well cared for as they were unaware she had been given food by mistake.
At an inquest in January, the coroner at Bolton Coroner's Court certified she had died from aspiration pneumonia after food material and liquid were given to her by mouth "in circumstances where a documented direction of nil by mouth was not followed".
Katie Nolan, a specialist medical negligence solicitor at Manchester-based JMW Solicitors, said: "Marion was an active 80-year-old who was still enjoying life with her family.
"However, once under the care of Salford Royal Hospital, she deteriorated rapidly and died in distressing circumstances.
"This is an unacceptable failure in basic care and it is crucial that Marion's family understand how this was allowed to happen and receive assurances that safeguards have been put in place to prevent it from happening again."
'Never allowed to happen'
Mrs Sampler's son-in-law Steven Cooper, also from Ordsall, said: "We feel absolutely devastated about what happened to Marion.
"Although she was 80, she was still getting about and had no problems with her mental function.
"We're talking about a human being here. We just want to make sure this is never allowed to happen to anyone else.
"The last thing she said to me was: 'You're not going, are you sweetheart?' That will stay with me forever."
Salford Royal Hospital has said sorry to the family "as we acknowledge we have let them down".
Director of nursing Elaine Inglesby-Burke said the hospital prides itself on "its openness and transparency" with patients and families.
She said: "Shortly after Mrs Sampler's death a senior consultant met with the family. He apologised and explained the circumstances leading to her death.
"The senior consultant also confirmed that the trust had already proactively referred the matter to the coroner's office for further investigation.
"Although we believe the circumstances were explained as well as they could be, it is clear from the family that all of these issues were either not explained as explicitly as they would have wished or that they were not properly understood.
"The trust sincerely regrets this."