John Cooper Clarke honoured by University of Salford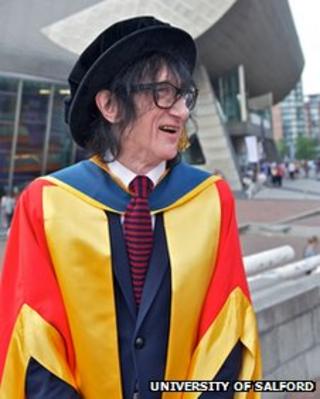 Performance poet John Cooper Clarke has been awarded an honorary doctorate by the University of Salford.
Cooper Clarke, 64, who used to work as a lab technician at Salford Technical College, is credited with influencing artists ranging from the Arctic Monkeys to Bill Bailey.
The performer, nicknamed the Bard of Salford, emerged in the punk rock era of the 1970s.
He said after Thursday's ceremony: "What a thrill, who'd have thought it?"
Cooper Clarke was presented with the doctorate of arts in "acknowledgement of a career which has spanned five decades, bringing poetry to non-traditional audiences and influencing musicians and comedians".
He said: "Now I'm a doctor, finally my dream of opening a cosmetic surgery business can become a reality."
Cooper Clarke's satirical verse delivered in a machine-gun Mancunian accent saw him support such punk acts as The Clash, The Sex Pistols and Siouxsie and The Banshees, before going on to top the bill himself.
His only top 40 hit was Gimmix! (Play Loud), while his album Snap, Crackle and Bop reached number 26.
In more recent years his poem Evidently Chickentown ended an episode of The Sopranos.
Cooper Clarke now lives in Essex with his second wife and his daughter.