Stephen Hunt death: Fire officer dedicated to city zone safety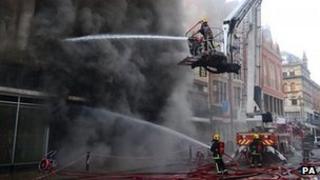 A dedicated fire officer will work with businesses around the Manchester store where a firefighter died to improve safety, the fire service has announced.
Father-of-two Stephen Hunt, 38, died while tackling the fire at Paul's Hair World in Oldham Street on Saturday.
The officer will give "advice [to] and take enforcement action" against businesses in the Northern Quarter, Greater Manchester Fire Service said.
The service said the move followed "three major blazes in three months".
Fire crews tackled blazes at the old Dobbins store on Oldham Street in April and at the Almost Famous restaurant on High Street in June.
County Fire Officer Steve McGuirk said the fire on Saturday prompted a meeting with Manchester City Council "to look at how we work together alongside businesses and residents of the Northern Quarter to look again at fire safety in the area".
"We don't want to be alarmist, but with the nature of the building stock and occupancy of the area, there is almost certainly a lot more we can do to raise awareness of fire safety and to work in partnership to make improvements."
Councillor Pat Karney, the council's city centre spokesman, said it was "a major priority to improve fire safety" in the area.
"As well as improving safety for Manchester residents and visitors, we owe this to the memory of Stephen Hunt who sacrificed his life to protect us," he said.
A fire service spokeswoman said the role of the officer could be "extended" to cover the whole of the city centre if it was successful.