People Like Us: BBC Three 'not returning' to Harpurhey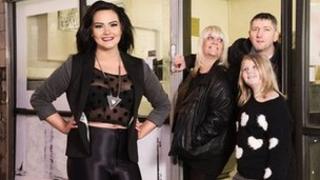 A documentary residents said gave a "biased" view of a Manchester suburb will not be returning to the area for a second series, the BBC has said.
People Like Us, which aired on BBC Three in February, followed the lives of people living in Harpurhey.
A BBC spokesperson said the broadcaster was "still considering a second series... and if there is one, it will not be filmed in Harpurhey".
Councillor Pat Karney said the decision was a victory for the area.
At the time of broadcast, the BBC said the programme was a "warm and at times unflinching look at the reality of life for young people in Harpurhey".
Comparing the programme to a Channel 4 show set in a similar but fictional area, Mr Karney said the corporation had "deliberately set out to do a Shameless version of Harpurhey and it's rebounded in their face".
"They thought this area up north, they won't kick up a fuss, but lo and behold, the mighty BBC brought down by the people of Harpurhey," he said.
Writing on Twitter, one of the show's participants Karen Wakefield said "all good things come to an end".
"It's the end of the road but don't be too disappointed," she wrote.
Harpurhey was named the most deprived neighbourhood in England in a survey in 2004.