Manchester day care centre closures to go ahead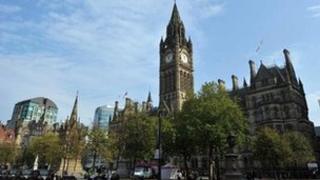 Plans to close two day care centres and cut 51 jobs to save £1.7m have been given the go-ahead by Manchester City Council.
A spokesman said government cuts to their budget meant they had to make "tough decisions".
The council's executive decided to approve the plans despite its own Health Scrutiny Committee finding they were "not the best way forward".
Health officials were concerned they would harm the most vulnerable.
The Eric Hobin centre in Charlestown and the Northfield centre in Moston are to close, with services moved to Heathfields in Newton Heath, Minehead in Withington and Hall Lane in Wythenshawe.
The Labour-controlled council said some buildings were less than 40% occupied.
'Increasing burden'
The Oakwood Centre in Northenden, which had been considered for closure, will remain open for residents with "complex and multiple needs".
Of the staff affected by job cuts, 29 have taken voluntary severance and 22 opted in to the council's redeployment scheme, a spokesman said.
Councillors on the Health Scrutiny Committee raised concerns a reduction in services could lead to an increasing burden on families, carers and the voluntary sector.
They said if that became too much more people could be placed in residential care, which would cost the council more in the long-term.
In the committee's minutes it suggested the council had failed in its promise to protect the most vulnerable when dealing with reductions in government funding.
It found the closures were "not the best way forward and contradictory to the council's vision for integrated and co-ordinated care".
'Protecting the vulnerable'
Rob Churchill from Northfield Day Centre also submitted a petition containing more than a 1,000 signatures objecting to the proposals.
Labour councillor Paul Andrews, Executive Member for Adults' Health and Wellbeing, said: "We have remained resolute about protecting the most vulnerable members of our society.
"Our plans have been creative out of financial necessity - but they mean that there won't be a single resident losing day centre provision. We will do our utmost to keep friends together and offer provision on geographic and personal needs.
"We believe that using the bigger, more modern buildings is a sustainable plan which will allow us to develop the activities and resources we have on offer."