Benzo Fury-linked drug death woman was 'wonderful'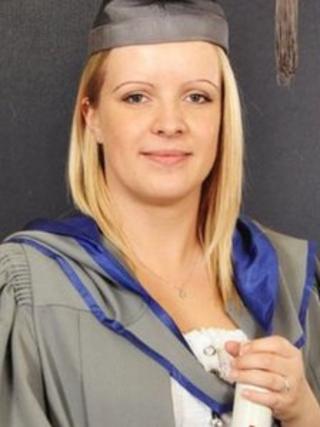 The family of a woman whose death has been linked by police to a banned "legal high" have described her as a "wonderful person loved by everyone".
Jennifer Whiteley, 27, from Sale, died after taking a powder which Greater Manchester Police said was believed to be the recently banned drug Benzo Fury.
She was taken to Wythenshawe Hospital for treatment in the early hours of Saturday but died a short time later.
Toxicology tests are taking place to try to confirm the cause of her death.
Her family said that Jennifer, a psychology graduate of both Manchester Metropolitan University and Staffordshire University, had been "passionate about her field of study and wanted to help people wherever she could".
"You could put her with a group of people covering every age, creed and colour and she could engage with all of them.
"The overwhelming response from all the people who knew her is that this young, caring and beautiful woman was a wonderful person loved by everyone and her loss will affect them all deeply."
They added that Ms Whiteley's mother had been "envied by friends for having a daughter who was also her best friend, and her father for having a daughter who was clever, fantastic company [and] a faithful and reliable friend".
Officers investigating the 27-year-old's death found a quantity of powder, believed to be Benzo Fury.
The drug, which is described as a "mild stimulant" that acts like amphetamines and is sold in both powder and tablet form, was given a year-long ban by the government in June.