Wythenshawe Games see thousands take part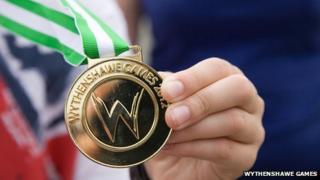 Thousands of people of all ages are taking part in a cultural and sporting festival in Greater Manchester inspired by the London 2012 Olympic Games.
The Wythenshawe Games are being staged in Wythenshawe Park until 3 August.
They were held last year to mark London 2012 and organisers said 10,000 people participated then.
Councillor Glynn Evans from Brooklands ward said he hopes the legacy of the Wythenshawe Games was to promote sports and health initiatives.
Mr Evans said: "We want to make [people] see that simple sports and activities can change their lifestyle and we want this to be a legacy after the games.
"It is all about enabling people to be able to carry on doing things they want to do that makes them fitter and healthier."
Nigel Wilson, chief executive from Wythenshawe Community Housing Group (WCHG), one of the partners supporting the Wythenshawe Games, said it was about "fun and fitness".
He added: "Any sport that a resident takes up as part of the games will be available to them locally once the event is over so that they can continue with their hobby."
Sporting sessions being held during the week of activities include athletics, football, tennis, cricket, dodgeball, korfball and martial arts.
There will also be history re-enactments, dancing and go-karting, amongst other community events taking place.
The event has been organised by Manchester City Council, WCHG, the Manchester United Foundation, Wythenshawe Hospital, the Manchester College and Wythenshawe Forum Trust.