Greater Manchester Police sergeant guilty of 'inhumane' custody assault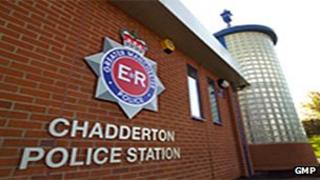 A police custody sergeant has been found guilty of an "inhumane" assault on a man who was screaming in pain.
Greater Manchester Sgt Richard Miller, 45, dragged the 32-year-old 33m (108ft) by his handcuffs at Chadderton police station last July.
He had denied common assault in a trial at Manchester Magistrates' Court, but was fined £500.
The Independent Police Complaints Commission (IPCC) said he had "abused his position of authority".
A Greater Manchester Police spokesman said the verdict meant there were now "internal misconduct matters" to be addressed.
He said the force respected the court's decision and "will be in liaison with the IPCC" over Miller's future career.
Malcolm McHaffie of the Crown Prosecution Service (CPS) said the man in custody had sustained a fracture to his left arm prior to the assault, which Miller did not know about.
The man had earlier been arrested on suspicion of assaulting a police officer at an Oldham takeaway.
'Excessive and unlawful'
Mr McHaffie said despite no-one knowing about his injury, the man had "protested that he was in in pain, required medical attention and [said] that he could not get out of the police van".
"Despite this, Sgt Miller dragged the detained man by his handcuffs across the floor into the police station and to a cell.
"Although his position as a custody sergeant undoubtedly requires Sgt Miller, on occasion, to use a degree of force, he is also expected to look after the welfare of detained persons.
"The court has found that his handling of the victim was both excessive and unlawful and Sgt Miller now faces the consequences of his actions."
Miller was also ordered to pay £775 in costs and £250 in compensation.
'Truly shocking'
The case was referred to the CPS by the IPCC following an investigation.
IPCC commissioner James Dipple-Johnstone said CCTV footage was "truly shocking".
"Using handcuffs to drag a detainee through a custody suite is wholly inappropriate - to do it to someone who is injured and screaming out in pain is inhumane.
"Sgt Miller tried to defend his actions by saying he was dealing with an 'unwilling and non-compliant' detainee [but] that is no defence.
"He acted unprofessionally and abused his position of authority."
A spokesman for the IPCC said the investigation had also identified that "a police constable and two custody detention officers witnessed Sgt Miller's actions but failed to challenge him".
"As a result, the IPCC found the three had a case to answer for misconduct," he said.