E-fit appeal over attempted kidnap of girl, 11, in Hyde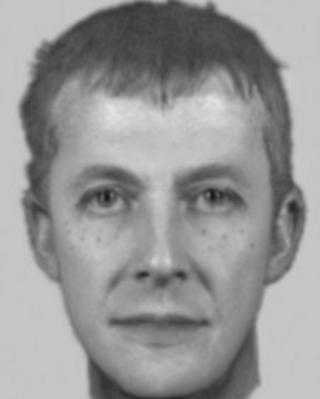 An e-fit has been released of a man police want to speak to over an attempted abduction of an 11-year-old girl from her back garden.
The man tried to grab the girl after wandering into the garden of the house in School Lane, Hyde on Saturday, claiming to be lost.
He fled when she screamed and kicked out at him.
The mother of the girl, who cannot be identified, said she has since struggled to sleep and is "very upset".
She said: "She's crying out in her sleep. It's heartbreaking as a parent to see that.
"I just hope they can catch him and he can't do it to any other family because what happens if next time someone's not so lucky."
Det Con Ian Parker said the kidnap attempt had been a "terrifying experience" for the girl.
Greater Manchester Police described the offender as white, in his late 40s, about 6ft (1.8m) tall and of slim build.
He has short blonde hair and a deep voice with a local accent.
He was wearing a heavy black coat, blue jeans and black trainers which had orange markings on them.
Police have asked anyone who recognises the man shown in the e-fit to contact them.