Dispute resolved at Wigan Hovis factory after two strikes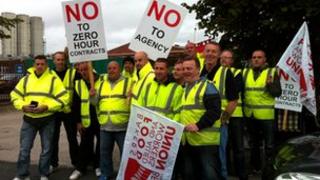 A dispute over staff contracts and pay at Wigan's Hovis bakery has been resolved after two walkouts.
Workers went on strike in August and earlier this month in protest over the introduction of agency staff and a reduction in hours.
Owners Premier Foods said it was "delighted" the dispute had ended.
The Bakers, Food and Allied Workers Union (BFAWU) applauded the company for "reaching a settlement that is satisfactory for all concerned".
BFAWU regional secretary Geoff Atkinson said: "The BFAWU would like to thank Hovis for finally sitting down with us in order to find a solution to what was becoming a very bitter dispute over the use of zero hours contracts and agency labour at the Wigan bakery."
Mr Atkinson said it had been agreed that agency labour would only be used when there was "insufficient commitment by employees to work overtime and banked hours".
'Create jobs'
Agency employees who work 39 hours per week for 12 consecutive weeks will be moved to parity pay.
This commitment, Mr Atkinson said, "also has the potential to create jobs in the local area".
A spokesman for Premier Foods said: "We are delighted to have reached an agreement with the bakers union that gets our people back to work as it's been a difficult time for all concerned.
"The agreement reinforces our previous assurances that the company has no intention of replacing permanent employees with agency staff or using agency staff as a lever to erode existing employees' terms and conditions."
The company says it will establish a forum with management and union representatives "to work on how we rebuild trust at the Wigan site and build a stronger relationship".