Warning after students evacuated following fire in halls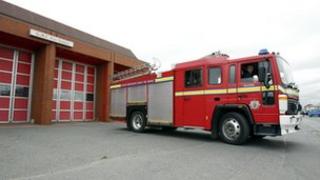 More than 1,000 students were evacuated from halls of residence in the early hours when a cooker caught fire.
Crews were called to Manchester Student Village in Lower Chatham Street at 02:58 BST after a fire on the sixth floor.
No-one was hurt but the communal kitchen was severely damaged.
Watch Manager Paul Hessford said: "It seems to be that time of year when new students come to Manchester, who aren't used to cooking."
'Spate of fires'
"Luckily the student who spotted the fire closed the door and called us, so no one was hurt," he added.
He said there was another smaller kitchen fire on Monday night at Wilmslow Park halls of residence in Fallowfield and students were evacuated there, too.
David Acton, chair of the Greater Manchester Fire and Rescue Authority, said crews deal with a "spate of cooking fires" when freshers come to Manchester.
He urged students to take care and "always stand by your pan - or better still if you're on your way home from a night out, stop at a takeaway."