Woman burned as cocktail explodes in Manchester bar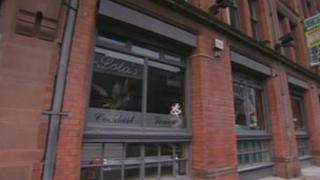 A woman suffered burns when a flaming sambuca cocktail exploded in her face, engulfing her in flames.
The 24-year-old, who has not been identified, was in Lola's Cocktail Lounge in Manchester in the early hours of Sunday.
She suffered burns to her cheeks, forehead and chest and was taken to Wythenshawe Hospital's burns unit.
She is still in hospital. The bar said it was reviewing health and safety procedures after the "freak accident".
North West Ambulance Service said paramedics arrived at the bar shortly before 02:00 BST on Sunday following reports of the woman's burns.
A spokesman for Lola's Cocktail Lounge said: "Following the recent event in our venue resulting in injury to one of our customers, we sincerely offer our sympathies for her injuries sustained.
"We have been trading for many years and have never had another incident such as this.
"We have revisited our health and safety procedures once again to prevent this type of freak accident from happening again."