Man stabbed to death in Longsight, Manchester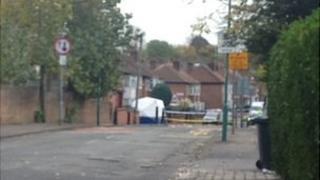 A man has been stabbed to death and a second man injured after they were attacked following "an altercation" in Manchester.
The men, in their 20s, were found by emergency crews on Parry Road, Longsight, at 00:40 GMT.
Police said both were taken to hospital but one man - believed to be aged 25 - later died.
A second man, who is thought to be 23, is being treated in hospital for non life-threatening injuries.
A police cordon is in place on Parry Road, Rushford Street and Prout Street while the investigation into the stabbings take place.
Det Supt Jon Chadwick said: "We have not yet identified who this man is so the main focus of our inquiries are to establish who he is, make contact with any family members and build up an accurate picture of what has led to his death.
"What we do know is that some sort of altercation took place that has resulted in two men being stabbed, one of whom has now died."