Dale Cregan 'mistaken identity' attack in Droylsden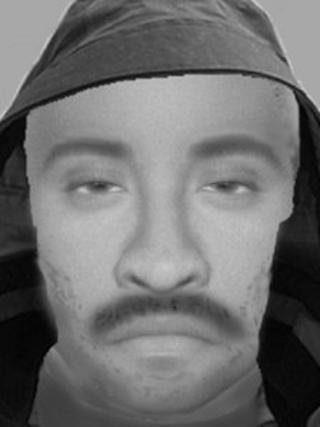 A man was injured after answering the door to a knifeman believed to be looking for relatives of killer Dale Cregan, in a case of mistaken identity.
Greater Manchester Police has released an e-fit of the man who attacked Tony Riley, 59, at his home on Tewkesbury Avenue, Droylsden, on 28 October.
He made comments that led police to believe Mr Riley was wrongly targeted.
It is understood he said he was looking for associates of Cregan, who killed four people in 2012.
He was jailed for life at Preston Crown Court in June for murdering father and son Mark and David Short, and PCs Fiona Bone and Nicola Hughes.
Mr Riley was treated in hospital for his injuries, which are not life-threatening, police said.
Police have released an e-fit of the knife attack suspect. He is described as Asian, about 30 years old and between 5ft 10in and 6ft tall (about 1.7m).
Det Insp Richard Hunt said: "As a result of comments made by the offender, at this time we believe this is a case of mistaken identity.
"The occupant has been injured in an unprovoked and senseless act and we are working hard to identify the person responsible."