Metrolink: Director 'sorry' after ice causes tram delays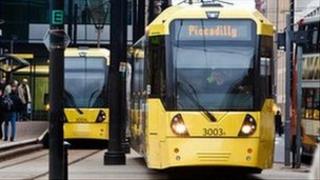 The head of Greater Manchester's tram service has apologised after commuters suffered severe delays and suspensions when overhead power lines froze.
Peter Cushing, Director of Metrolink, said ice-breaker trams ran overnight to clear frost from lines but it "re-formed on parts of the network".
Several commuters said it was the latest in a series of problems and called for Mr Cushing to resign.
He said: "If it was going to solve the problems I would do it, but it isn't".
Passengers travelling to work reported delays of more than an hour on many routes, with some services suspended on the Rochdale line.
Metrolink was also criticised for failing to keep passengers informed at stations and on trams.
Commuter Steve Flitcroft asked on Twitter "why Mr Cushing had not resigned".
Speaking to BBC Radio Manchester, Mr Cushing said: "Bringing someone else in to do exactly the same thing won't get it there any quicker.
"I was put in this job to get the system through its expansion and to improve the service, we are working very hard at that, we are working through all the different issues and moving on and that's the only thing we can do."
Sue, a commuter who was travelling to Manchester city centre, said: "There was absolutely no information being given out this morning on the intercom, and the staff there did not have any information to give out either.
"I was stood on the platform for about half an hour, absolutely frozen, with no updates whatsoever".
'Get me there'
Transport for Greater Manchester (TfGM) said ice caused delays to services and a suspension on the service between Oldham Mumps and Rochdale.
In a statement, it added: "These were unusual circumstances and a number of other operators including rail service providers also experienced delays.
"Technicians were dispatched immediately and the line was cleared as quickly as possible, but there were some knock on delays as a result. We apologise for this and we are taking steps to address this issue.
"We are trialling a new Teflon-based coating on the overhead lines this week which has the potential to reduce icing issues and if successful will be applied across the network. We are also speaking with the tram manufacturers to see if we can further improve their tolerances to voltage fluctuations in icy conditions."
TfGM also announced a new smart ticketing system, similar to London's Oyster, will be introduced in 2014.
The service, called 'Get Me There', will allow passengers to buy travel credits at stations or online and load them to a card.
Passengers will then scan the card at a smart reader at the start of their journey, then "touch out" at their final destination.
The travel provider confirmed cards will be available to be used on trams, with the service hoping to expand to bus and rail services by 2017.