Teen raped by man in 'terrifying' attack in Collyhurst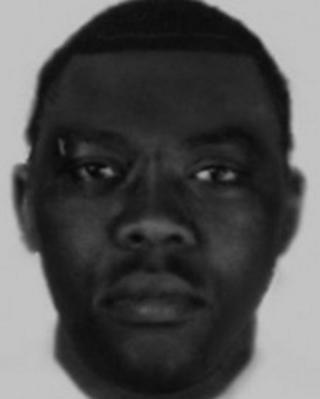 A 13-year-old girl was raped after being grabbed by a man while she was playing with her friends in Manchester, police have said.
The attack happened between 25 June and 20 July on The Croft, New Allen Street, Collyhurst, but was reported to police by the girl's teacher this month.
The man told the girl she would be attacked again if she told the police.
An e-fit of the offender has been released by police, who said the attack was a "terrifying ordeal" for the girl.
He is described as being black, in his mid-30s, about 5ft 10in (1.8m) tall, with brown eyes and with a mark to the side of his right eyebrow.
He had a line shaved horizontally into his short black hair and was wearing a black tracksuit with white stripes.
Supt Neil Bholé said: "This man is dangerous, violent and even threatened to hurt this girl again if she went to the police.
"It is totally understandable the girl felt so unable to tell someone what happened until now."