Halle Orchestra extend Sir Mark Elder's term as music director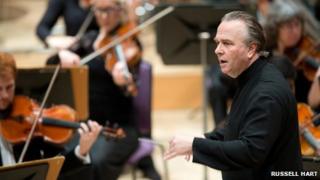 The music director of one of Britain's oldest symphony orchestras has renewed his contract until 2020.
Sir Mark Elder, of Manchester's Halle Orchestra, was first appointed in 2000.
A spokeswoman said the extended tenure would make him the "longest serving musical director currently working with a major English symphony orchestra".
Sir Mark, who has led the Halle on tours around Europe and Asia, said he was "delighted to continue making music with my wonderful orchestra".
"The Halle, together with its loyal audience, holds a special place in my heart, and I am excited at the thought of what we will achieve as the years go by," he said.
Sir Richard Leese, the leader of Manchester City Council, said the announcement was "great news".
"Mark's artistic leadership of the Halle has taken one of Manchester's great brands back to the very top of the UK's artistic life and made it once again an orchestra of international renown," he said.
"I am delighted that he will be part of the city's vibrant cultural scene for many years to come."
Founded by Sir Charles Halle in 1858, the orchestra is based at Manchester's Bridgewater Hall and is widely regarded as one of Britain's finest ensembles.