Manchester Debenhams boy rapist has jail term cut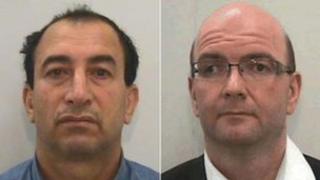 One of two men jailed for raping a 14-year-old boy in the toilet of a central Manchester department store has had his prison sentence cut.
Alex Wilson-Fletcher, 42, was originally sentenced to 15 years along with Abdelkader El-Janabi, 55, at Manchester Crown Court.
Three judges at the Court of Appeal rejected a challenge against the length of El-Janabi's sentence.
But Wilson-Fletcher's term was reduced to 13 years.
The pair were found guilty in April of two counts of rape and two counts of sexual assault against a 14-year-old victim and were sentenced in June.
They approached the boy in the Arndale Centre on a busy Saturday.
Severe sentence
The court heard El-Janabi was the one who physically raped the teenager, but Wilson-Fletcher, of Oldham Street, Manchester, was convicted on the basis he took part in a joint-enterprise.
Wilson-Fletcher's sentence was cut by Lord Justice Davis, Mr Justice Nicol and the Recorder of Chester, Judge Elgan Edwards.
Mr Justice Nicol described what had happened as "appalling", stating that Wilson-Fletcher's role merited a severe sentence.
Describing the roles of each of the men, the judge said El-Janabi was the "ringleader" and it was he who "took the physical part in the counts of rape, not Wilson-Fletcher".
The judge said the court considered Wilson-Fletcher's "crimes did not merit [a sentence] that was as long" as El-Janabi's.
Dismissing the appeal by El-Janabi, Mr Justice Nicol said the court was satisfied that the sentence imposed in his case was "amply justified".
Both El-Janabi and Wilson-Fletcher watched the proceedings via videolink from prison.
When sentencing the pair in June Judge Michael Leeming told Wilson-Fletcher he was "at least a lookout" and encouraged the other defendant.
He said he did not see any distinction between the two men in terms of setting an appropriate prison term.