Bolton teenager Eden Lomax guilty of murder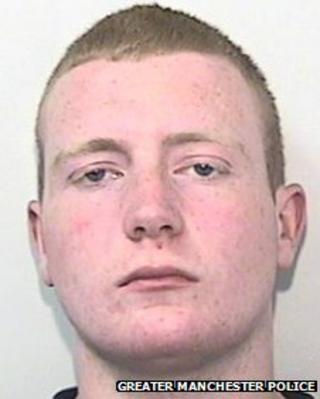 A boy has been convicted of murdering a man he killed with a single punch.
Eden Lomax, 17, of Northwood Crescent, Bolton, went to play computer games at a friend's house after the attack on Simon Mitchell, 43, in Bolton town centre on 14 June.
Lomax threatened to give Mr Mitchell a surprise heavy-handed punch, known as a "bomb", when Mr Mitchell tried to defuse tensions between them.
Lomax will be sentenced on 9 December at Manchester Crown Court.
He has pleaded guilty to two other unprovoked attacks.
The teenager first punched a 31-year-old man with learning difficulties in the face as stood at a bus stop on 7 June.
Four days later, he punched a drunk 41-year-old man without warning after they struck up a conversation.
Both attacks took place just yards from Mr Mitchell's murder in Victoria Square.
'Young thug'
Lomax had threatened two other drunk men before he punched Mr Mitchell, of Hunger Hill, Bolton, police said.
A drunk Mr Mitchell began talking to Lomax and his friends as he walked past them.
An agitated Lomax then threatened to "bomb" Mr Mitchell if "he didn't go away", police said.
He struck after Mr Mitchell offered his hand in friendship several times.
The blow fractured Mr Mitchell's jaw and he fell horizontally backwards, hitting his head on the pavement.
Robert Hall, senior crown advocate for CPS North West, said: "Eden Lomax struck Simon Mitchell, a complete stranger to him, in a public street.
"Initially, Lomax claimed he had been acting in self-defence, however, this was a lie he crafted in an attempt to avoid paying the penalty for his actions."
Det Ch Insp Pete Jackson said: "Simon lost his life at the hands of a young thug, who was driven by aggression and pent-up violence."