Baby Millie Thompson 'died choking on nursery lunch', inquest hears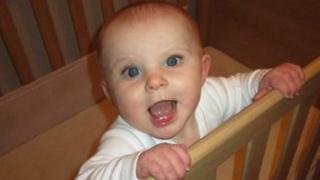 A baby choked to death after being fed shepherd's pie at a nursery, an inquest has heard.
Nine-month-old Millie Thompson started choking while eating lunch at Ramillies Hall School and Nursery in Cheadle Hulme, Stockport in October 2012.
Staff carried out first aid but shortly after paramedics arrived, she went into cardiac arrest and died later.
The inquest is being heard by a jury and coroner John Pollard at Oldham Magistrates' Court.
The hearing was told it was Millie's third full day at the nursery, that she had settled in well and had no special dietary requirements.
She "suddenly started to choke" on her lunch and an ambulance was called, Mr Pollard said.
The inquest was told the nursery supervisor feeding Millie did not have a valid first aid certificate, but a colleague who had the relevant training performed back slaps on her until paramedics arrived.
Millie's mother Joanne Thompson told the hearing that she thought her daughter "was safe that day".
"How she choked on mash, we'll never understand."
Following the nine-month-old's death, her parents set up charity Millie's Trust to promote first aid training in schools.
The organisation also pays for parents to have first aid lessons and offers free classes to new mothers.
The inquest continues.