Manchester manager of Akbar's Indian restaurant dies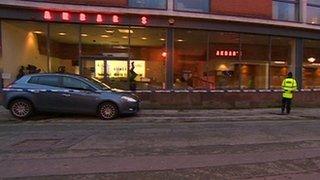 A restaurant manager has died following a dispute with a customer over a bill in Manchester city centre.
Police said the man, in his 40s, collapsed after the incident at Akbar's Indian restaurant in Liverpool Road, at 22:45 GMT on Friday.
He was confirmed dead in hospital. Police said inquiries are ongoing to establish how he died.
A 37-year-old man has been arrested on suspicion of assault and remains in custody for police questioning.