Dale Cregan: Police worker 'helped killer on run'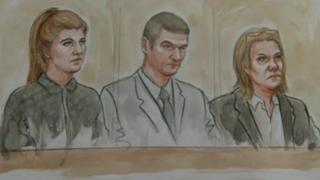 Double police-killer Dale Cregan was helped to stay on the run by a police worker and his mother, a jury heard.
Greater Manchester Police call handler Kathryn Smith, 25, denies misconduct in a public office.
Anita Cregan, 56, and Sean Booth, 30, both of Sutton Drive, Droylsden, deny aiding and abetting Ms Smith to commit the offence, at Manchester Crown Court.
Ms Smith used police computer systems to pass on restricted information about the manhunt, the jury heard.
'Concentrated on manhunt'
Ms Smith, of Condor Close, Droylsden, used the police's computer systems while on her shift at the force's HQ to check developments.
She is accused of making phone calls to her boyfriend Mr Booth, who lived on the same street and grew up with Cregan, when there was a possible sighting of him, the jury was told.
Prosecutor Nicholas Clarke QC said: "She concentrated on the high level of police activity surrounding the manhunt for Dale Cregan and the Sutton Drive area where his family reside."
As a call handler, Ms Smith's "role does not permit her to act this way", he added.
Dale Cregan, 30, was on the run for murdering father and son, David and Mark Short.
Officers concentrated their search on east Manchester and Droylsden, where Cregan lived, and bugged the Cregan family home in Sutton Drive, the jury heard.
'Accessed maps'
The court was told that Mrs Cregan confronted a "grass" who lived in her street after she was handed information supplied by Ms Smith.
Mrs Cregan told the neighbour she had "inside information" that he had made the call and was subsequently questioned by the Cregan family for six hours.
Mr Clarke said: "The original caller was confronted by Anita Cregan and will probably have been identified to Dale Cregan.
"This has put him at significant risk of reprisals, and so he has received a threat-to-life warning."
Ms Smith is alleged to have told Mr Booth the house number the call was made from, the jury heard.
The jury panel of five men and seven women were shown screen-shots of Ms Smith's computer use on the evening of 4 September 2012.
Series of texts
She used her computer to look up the exact locations of the officers and police cars and vans in the area and accessed maps showing armed response patrols in the area, the court heard.
"Whenever the system took her away to deal with a call from a different area, she would almost immediately drag it back to Droylsden," Mr Clarke said.
A series of text messages between Ms Smith and Mr Booth were read by the jury.
In one Ms Smith said to Mr Booth: "I'm scared, I hate it that you're an 'associate'. I know you want to help but please just don't get involved with them x."
Police also found on her phone a list of addresses they had raided.
The prosecution said this showed the extent she was prepared to carry out "research" on the inquiry for her boyfriend.
Mr Clarke said: "This was grave misconduct in relation to (Ms) Smith's duty owed to the public, in flagrant breach of all instructions given directly to her, with serious consequences for the public and in particular the neighbour."
Cregan was given a whole-life sentence in June for the murders of PCs Nicola Hughes and Fiona Bone and the killings of the Shorts.
The trial continues.