Demonstration after girl, 12, dies at Shaw crossing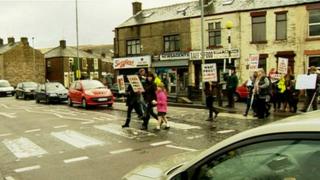 People calling for traffic signals on a "dangerous" crossing where a 12-year-old girl was killed have demonstrated at the place where she died.
Annalise Holt died when she was hit by a van on the zebra crossing in Milnrow Road, Shaw, on Tuesday afternoon.
A petition started in the aftermath of the tragedy has attracted more than 5,400 signatures.
An Oldham Council report in 2010 found more than 30 people had been injured in Milnrow Road in five years.
More than 150 people gathered in the street for the demo.
Annalise's uncle Darren Holt, who attended the protest, said her death had been a "terrible time" for the family.
He added that "words can't describe" how the family is feeling.
The petition aims to persuade Oldham Council to install a pelican crossing at the site "before another person is killed or seriously injured".
People who signed the petition, initiated by former police traffic inspector Chris Gloucester, said a safe crossing was "required urgently" and a "lack of light" made it difficult to spot when it was dark.
The council said it would not comment until after the end of the police inquiry, but councillors are going to discuss if converting the crossing into a pelican crossing is a viable idea.