Arson attack sensory room rebuilt by businessman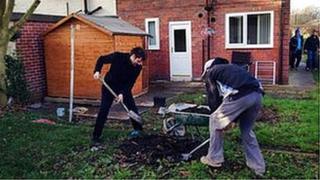 A businessman is rebuilding a sensory room for an autistic boy destroyed in a Christmas Day arson attack.
Fiona and Wesley Ratcliff, from Wythenshawe, spent two weeks turning their garden room into a space for their seven-year-old son Harvey.
They had planned to show him the room for the first time on Wednesday, but it was destroyed by fire.
Businessman Lawrence Jones, 45, is rebuilding the sensory room after reading about Harvey's story.
A sensory room contains lights and music and tactile objects to stimulate the senses. Such facilities are often used to help people with disabilities.
Mr Jones, a father of three who runs an internet hosting provider, said he read about Harvey's story on Twitter.
'Incredible sensory room'
He said: "I thought I could do something to help as I am in the middle of a big building project in Manchester with plasterers, electricians and joiners working full-time.
"Ultimately everybody can do something to help and cheer people up. It is not just about the money, it is about practical help," he said.
He said he was outside the house in Culmere Road and the builders were now laying the concrete for the foundations for "the most incredible sensory room that the family will never have dreamed of".
His team has built a new summer house after struggling to find a suitable building. The new sensory room will be unveiled on 3 January, he added.
Det Insp Jane Curran, of Greater Manchester Police, said whoever set the fire had "no morals whatsoever". She said it was a "disgusting and cowardly crime", and urged anyone with information to contact police.