Salford Royal Hospital's David Dalton awarded knighthood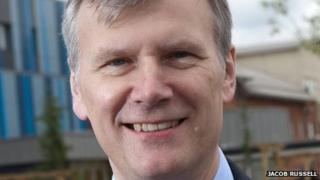 A health chief executive who helped transform a once zero-rated hospital to one of the top performing in England has been awarded a knighthood.
David Dalton is being honoured for his services to the NHS.
Salford Royal Hospital once received zero stars in the Healthcare Commission's ratings, but is now one of the highest rated in England.
A recent Care Quality Commission report said it was "extremely well run" with "a strong leadership team".
Reasons for its turnaround are said to include hourly nursing checks for patients and prioritising cleanliness.
Mr Dalton said he was "stunned" to receive the letter about his honour in the post.
He said: "To be honoured in this way is not something that I could ever have imagined when I joined the NHS as an administrative trainee almost 35 years ago.
"However, without a shadow of a doubt, it is not just about my contribution to the NHS, it reflects the hard work of all those who strive with me to provide the safest care for our patients today and to plan for the best outcomes in the future."
Foster parents
Other local people who feature in the New Year Honours list include Harold and Glenys Cockcroft, from Oldham, who have fostered more than 150 children in 30 years.
The couple, who have also helped to encourage others to become foster parents, have been appointed MBE for services to children and families.
Oldham businesswomen Helen and Lisa Tse, who run the Sweet Mandarin food company, have also been appointed MBEs.
The sisters run a Manchester restaurant, have a range of Asian cooking sauces and recently opened a factory to continue to expand their business.
James Jones, the head of Greater Manchester Police's (GMP) firearms and explosives licensing unit, has been appointed OBE for services to policing.
Mr Jones started his career in policing in 1965 and went on to become a chief inspector at GMP later in his career.
A charity founder from Wigan has been appointed MBE for services to Foetal Alcohol Syndrome (FAS) awareness and reduction.
Gloria Armistead's charity, FAS Aware UK, aims to make people aware of the effects drinking alcohol during pregnancy can have on unborn children.
Firefighter Mike Dillon is awarded the British Empire Medal for his work with young people at the Moss Side Fire Station Boxing Club.
"Sometimes, a rescue isn't the spectacular stuff of dragging someone out of a building," he said. "Sometimes it's turning a life around with a helping hand, or encouraging or just being there for an individual."