Kingsman Jamie Hancock: Wigan road named after soldier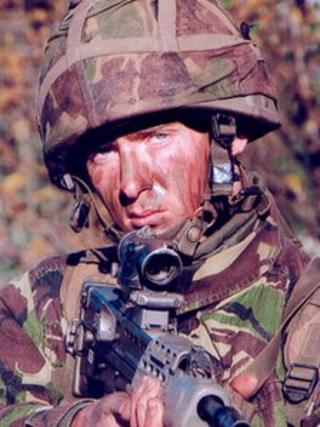 A new road in Wigan will be named in honour of a soldier from the Duke of Lancaster's Regiment who was killed in Iraq.
Kingsman Jamie Hancock was killed on duty in Basra in 2006 - just weeks after he arrived.
Wigan Council said the road in a new housing estate in Hindley Green, near to where the 19-year-old lived, will be named Hancock Close.
The council said it was "rare" for a road to be named after an individual.
'Lion of England'
A memorial stone will also be unveiled in Hancock Close in March, once the homes in the road are completed.
The stone will include an inscription describing the former Hesketh Fletcher High School pupil as "a lion of England".
Lord Peter Smith, leader of Wigan Council, said: "Kingsman Hancock gave his life in service to his country. It's our duty to honour and remember him and his sacrifice.
"The council has statutory street naming powers. It's unusual for us to name a road after an individual but in this case I think it is entirely appropriate."
A ceremony which will feature a bugler playing the last post is being planned for the official unveiling of the memorial stone.
Wigan Council plans to build 34 homes on the road.