Manchester city centre canal fall man dies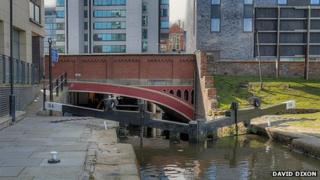 A man has died two days after he was pulled from a Manchester city centre canal.
Police said two men, aged 28 and 34, were walking along the Rochdale Canal path near Dale Street on Sunday when two men and a teenager approached them.
One was attacked and pushed in the water, but managed to climb out.
A 25-year-old man fell in and was later taken to hospital. Officers said he died at Manchester Royal Infirmary on Tuesday night.
A 17-year-old boy appeared in court on Tuesday charged with assault and obstructing police and was remanded in custody.