Crime commissioner's 10p-a-week plea to offset cuts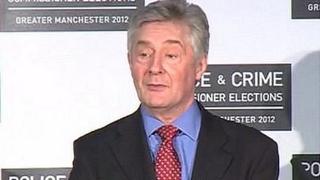 Residents are being asked by a police and crime commissioner to contribute 10p a week to help offset budget cuts.
Since 2010, the Greater Manchester force has lost £103m from its budget, and is losing 350 officers a year.
To offset this, Greater Manchester PCC Tony Lloyd is proposing a £5 annual additional contribution from residents.
The Taxpayers' Alliance rejected the idea, saying authorities should not "look to taxpayers" over spending decisions.
The force's government grant and council tax settlement for 2013/4 is £561m.
Greater Manchester Police lost £103m from its total budget since 2010 and this will increase by a further £114m by the end of 2018, the commissioner said.
'Reckless programme'
Mr Lloyd said for the average band D property the extra contribution was the equivalent of £5 a year - or about 10p a week.
He said if policing cuts continued beyond 2017, Greater Manchester Police would not be able to maintain its service to the public.
"I have warned since before I was elected that the government's reckless programme of cuts is endangering community safety," Mr Lloyd said.
"We are now standing on the edge of a cliff. The chief constable has told me that he cannot provide the levels of policing that Greater Manchester people expect and deserve if the programme of cuts goes beyond 2017."
The increase would potentially generate £3.3m, which the commissioner has promised would be spent on neighbourhood policing.
Robert Oxley, campaign director at the Taxpayers' Alliance, said: "Police chiefs shouldn't constantly look to taxpayers for a bit more cash when faced with tough budget choices.
"After a decade of council tax rises public bodies, including police and fire authorities, need to focus on cutting waste rather than hiking taxes.
"An extra fiver might not sound like it will break the bank but if every local authority and starts making this kind of demand it will only add further pressure on family budgets when many are already struggling."
The proposal will be discussed at Greater Manchester Police and Crime Panel on Friday.