Barton Moss fracking protesters face eviction from camp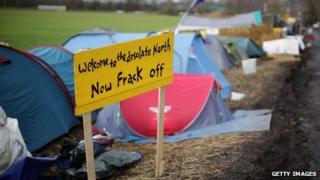 Protesters at an anti-fracking camp in Greater Manchester are planning to challenge a legal bid by the landowners to remove them from the site.
About 60 people are camped at Barton Moss in Salford, where exploratory drilling for shale gas is taking place.
An eviction notice said a court will decide whether they must leave but campaigners said they will do "whatever it takes" to stay.
The case will be heard at Manchester Civil Justice Centre on Friday.
Campaigners moved on to Barton Moss Road in November last year.
Possession order
They fear drilling could lead to the discovery of shale gas and future fracking to extract it.
Fracking is short for hydraulic fracturing, a method to extract shale gas from rocks using water and chemicals under high pressure.
When asked about defying a possible court order, protester Daniel Evans said: "We have been gifted the right to peacefully protest.
"We have the right to assemble and we certainly have the right to warn people... Whatever it takes people are prepared to do that."
The BBC understands campaigners are in the process of appointing a law firm to represent them at the civil court hearing.
A legal order was served on protesters by solicitors Wragge and Co representing Manchester Ship Canal Developments Ltd and Peel Investments (North) Ltd.
It said the landowner is "claiming possession of land at Barton Moss Road, Irlam, Eccles" as well as "making a claim for money".
The letter also stated "the court will consider whether or not you must leave the property and, if so, when."
Energy company IGas has permission to build a vertical test well, near the M62 and Barton Aerodrome.
It is exploring potential energy reserves beneath the area.
A spokeswoman for IGas said: "We continue to go about our legal business that has all the necessary planning and permits."