'Smelly' Ramsbottom bio energy plant blocked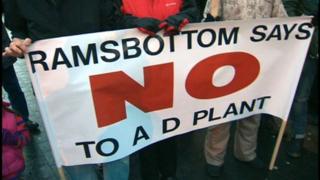 Plans for a plant to convert biological waste into energy in Greater Manchester have been rejected by a council planning committee.
Peel Environmental and Tamar Energy had applied to open the unit at Fletcher Bank Quarry in Ramsbottom, Bury.
The anaerobic digester would have broken down 45,000 tonnes of food waste a year to generate methane gas.
Local campaigners lobbied Bury Council with concerns over the smell and its proximity to nearby homes.
Planning officials had recommended accepting the development but councillors voted unanimously to block the plan.
They cited the fact the proposed plant was on green belt land and the concerns about odour.
Peel had withdrawn a previous application.
'Disappointed'
Campaign group Ramsbottom Against Waste Site (RAWS) said: "We don't feel that Tamar can guarantee our safety.
The anaerobic digester plant has no benefit to our community. It will not deal with our waste."
After the vote, local Conservative councillor Ian Bevan said: "The result was worth the hundreds of hours that we have put in on this issue. Thanks to everyone in RAWS."
A statement from Peel and Tamar said they were "disappointed" with the decision and were considering their next move.
"We believe anaerobic digestion is a highly responsible way of dealing with organic waste.
"Directing waste to the facility in Ramsbottom, rather than to landfill, would result in a significant displacement of approximately 30,000 tonnes per year of carbon dioxide from the atmosphere."