Hydrocephalus monitor 'helps children stay at home'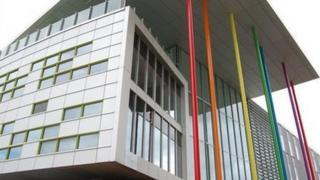 A monitoring system to allow children with hydrocephalus or "fluid on the brain" to spend more time at home is being pioneered in Manchester.
A thin tube, called a shunt, is surgically implanted in a child's brain, to prevent a potentially dangerous build up of fluids.
The new wireless system checks how the shunt is working.
Royal Manchester Children's Hospital said untreated shunt malfunctions can be "life threatening".
Two patients have had the small device implanted in their head.
Data from the monitor is then transmitted wirelessly through the skin and stored in a box that the children carry round with them, the hospital said.
'Reliable data'
Mr Roberto Ramirez, paediatric neurosurgeon consultant at the trust, said patients could keep a log of headaches, which could be checked against the data.
He added the device also allowed the hospital to monitor how well the shunt was working in the children's everyday lives "rather than when they are lying in a hospital bed".
"Not only does it reduce the cost and disruption associated with an unnecessary stay in hospital, but it is unobtrusive, uncomplicated, and most importantly, reliable," he added.
The hospital said the two children, aged four and 16, were the first in the UK to use the new monitoring system.
Children can be born with hydrocephalus and the condition can develop in adults.
If untreated, the rise in pressure can damage the brain.