Sainsbury's staff threatened by note in £17,000 currency theft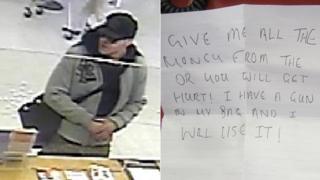 A man used a note to threaten staff at a supermarket money exchange before escaping with £17,000.
The man gave the note, which said he had a gun, to a staff member in the Hazel Grove Sainsbury's on Saturday.
He was handed £5,100 in sterling and about £12,000 in euros, US and Australian dollars, Turkish lira and Bulgarian lev.
He was described as being in his 30s, with a medium build and ginger hair.
A Greater Manchester Police spokesman said the man had chatted with staff as he handed the note over.
The handwritten message read: "Give me all the money from the [safe] or you will get hurt! I have a gun in my bag and I will use it!"
After being handed the money, the man ran off from the London Road store towards Peter Street.
Det Con Mark Healey said he wanted people to be aware of the theft as the man "could try to offload or change the currency across Greater Manchester".
He added that anyone who recognised the man or was "offered large amounts of foreign currency in suspicious circumstances" should contact police.