Museum of Science and Industry name new director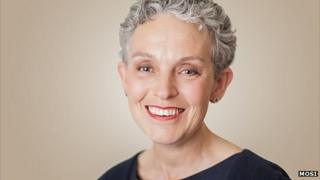 The new director of Manchester's Museum of Science and Industry (MOSI) has said taking charge of the institution is "an extraordinary honour".
Sally MacDonald, who joins MOSI in the autumn, grew up in the city and called it "the most exciting in the UK".
MOSI, which was threatened with closure due to budget cuts in 2013, is part of the Science Museum Group (SMG).
SMG's director Ian Blatchford said the group "could not have found a better leader" for the museum.
'Expert Stewardship'
Ms MacDonald, who has been University College London's (UCL) director of public and cultural engagement since 2006, will succeed Jean Franczyk, who has been in charge of MOSI since it joined SMG in 2012.
Ms MacDonald said the museum had "made great strides" under Ms Franczyk's "expert stewardship".
"I'm privileged to be leading the next stage of its development [and] see tremendous potential for collaboration both with partners in Greater Manchester and across the Science Museum Group."
Ms MacDonald began her career in Manchester as a cataloguer at the City Art Gallery, before moving on to English Heritage, London's Geffrye Museum and UCL.
MOSI, along with museums in York and Bradford, were threatened with closure in 2013 when SMG warned budget cuts by government could see one site shut.
Culture Minister Ed Vaizey later said there was "no question" of closing the museums.