Stepping Hill Hospital 'missed chances before man's death'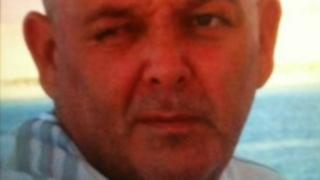 A hospital "missed opportunities" that could have extended the life of a man who had a tumour, a coroner said.
Coroner John Pollard said he was "far from happy" with the treatment Gary Bradshaw received at Stepping Hill Hospital, Stockport.
Mr Bradshaw died in July 2012 from the effects of raised calcium levels caused by the undiagnosed benign tumour.
The hospital said it "deeply regrets" its failings and have apologised unreservedly to his family.
Samantha Tweedie, Mr Bradshaw's partner, told Stockport Coroner's Court: "I can put it to rest now - I just want it not to happen to anyone else."
'Services fell short'
Mr Bradshaw was first examined by the hospital in May 2011, when he was diagnosed with kidney stones.
He was seen another three times between then and June 2012, when he was admitted for the final time.
Expert witness Dr Stephen Orme told the inquest there were "at least three missed opportunities" to carry out further investigations into the cause of Mr Bradshaw's high calcium levels.
There may have been "a different outcome for Gary Bradshaw" had his calcium levels been reduced in March or April 2012, he told the court.
A pathologist found Mr Bradshaw's death was as a result of raised calcium levels from an undiagnosed tumour affecting his heart and lungs.
Dr James Catania, of Stockport NHS Foundation Trust, said: "It is clear that on this occasion our services fell short of expectation in a number of respects."
He said that following Mr Bradshaw's death the hospital launched an immediate investigation to "fully understand exactly what happened and why".