Firefighter Stephen Hunt memorial plaque is unveiled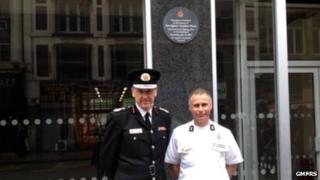 A plaque has been unveiled in memory of a Manchester firefighter, on the building where he lost his life.
Stephen Hunt, 38, died tackling a fire at Paul's Hair World in Manchester on 13 July last year.
Wreaths were laid by his family and the fire service, before the Firefighter's Prayer was said and a silence held.
County Fire Officer Steve McGuirk said: "His colleagues asked if there was some way we could mark the spot where Stephen fell."
The ceremony was attended by colleagues from Blue Watch and representatives from Greater Manchester Fire and Rescue Authority and the city council.
A memorial service for Mr Hunt will be held on 13 July at St Ann's Church, St Ann's Square, Manchester, at 14:00 BST.
Mr Hunt was among 60 firefighters called to the fire in Oldham Street.
The fire started in an underground store-room.
The father-of-two was based at Manchester's Philips Park Fire Station.