Stranded boys rescued from raft on Hollingworth Lake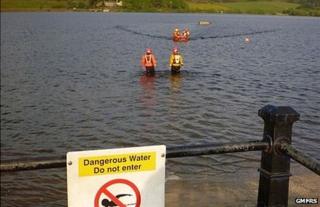 Two boys have been rescued from a Greater Manchester lake after becoming stranded while playing on a raft.
Firefighters helped the boys to shore after being called to Hollingworth Lake in Littleborough at about 18:20 BST on Sunday.
Crew manager James Hayward said the pair had been "incredibly lucky".
He said both boys "were checked over by paramedics and were uninjured, but things could have been a lot worse".
"After only a couple of days of sunshine, it appears some people have already forgotten about just how dangerous open water can be," he added.
He said it was important to remember that "although the sun is shining, the water temperature still remains very cold and dangerous".