Caesarean delay at Wigan hospital 'caused son's brain damage'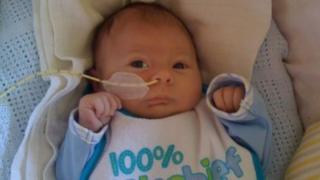 A baby boy was born with serious brain damage because medical staff delayed a decision to carry out a Caesarean, an inquest has heard.
Luke Weaving-Shorrocks was born at Wigan's Royal Albert Edward Infirmary in May 2011 but died of a cardiac arrest in August of that year.
Bolton Coroner's Court heard Victoria Weaving-Shorrocks was initially told he was dead, 20 minutes later she was told he was alive but had horrific injuries.
The inquest is listed for four days.
'Told he was dead'
Mrs Weaving-Shorrocks, 33, from Wigan told Bolton coroner Kevin McLaughlin how the "absolute joy" of having her first baby turned into a "horrific ordeal".
She said she had a routine first pregnancy and was expected to have a normal birth when she was admitted to the hospital at 01:00 BST on 17 May 2011, the court heard.
She said she had put her trust and faith into the professionals at the hospital and she was reassured everything was going well by medical staff.
However, Dr George Theophiou told the coroner she experienced complications during labour and Luke's head became stuck in Mrs Weaving-Shorrocks' pelvis.
The court heard two attempts to deliver Luke by suction failed.
He was eventually delivered by a Caesarean section at 16:49.
Mrs Weaving-Shorrocks said he did not make any sound and she was told he was dead.
Twenty minutes after she was told he was alive when someone spotted he was breathing but he had multiple fractures and severe brain damage.
Mrs Weaving-Shorrocks told the court how she was woken at 03:00 BST the next day to get Luke christened as staff did not think he would make it through the night.
He did survive and was treated at Hope Hospital for three weeks then returned to the Royal Albert Edward Infirmary for another two weeks before being discharged.
Mrs Weaving-Shorrocks told the court even though Luke had complex needs he was discharged with just 30 minutes of training on how to care for him.
The court heard Mrs Weaving-Shorrocks and her husband Richard are campaigning to improve training given to parents in similar circumstances in the future.
The inquest continues.