Police bid to seize Manchester terrorist's family home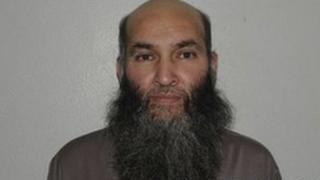 A court hearing has begun to decide if police can seize the family home of a man convicted of terrorism offences.
Munir Farooqi, from Longsight, Manchester, was given four life sentences in 2011 after he tried to recruit two undercover police officers for jihad in Afghanistan.
His trial heard he used the family home for meetings to radicalise recruits.
A judge at Manchester Crown Court will decide if the house can be seized as a terrorist asset.
Right to family life
Greater Manchester Police want to seize the property under a clause of the Terrorism Act 2000.
The house is estimated to be worth about £200,000 and is registered in the name of Farooqi's wife and daughter.
Seven members of Farooqi's family from three generations still live in the house and they say the application is a breach of their right to family life.
If the police case is successful it would be the first time a family home has been seized as a terrorist asset.
The judge will also make a ruling on whether the defence and prosecution costs worth more than £600,000 can be recouped from the Farooqi family.
It's understood any cash recovered would go to the Treasury, not Greater Manchester Police.
The hearing is expected to last until Friday.