Floor collapses at Fallowfield student house party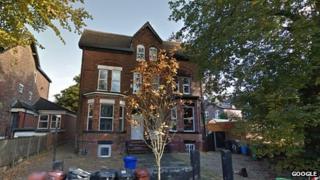 A floor collapsed in a Manchester house where about 100 revellers were attending a student party.
Fire crews escorted the people from the three-storey house in Amherst Road, Fallowfield at about 01:00 BST where the lounge floor had crashed into the basement.
Two people were treated for injuries, the fire service said.
Ella Dix-Nagra, who was injured, said on Twitter it had been "the scariest thing ever".
She said: "Went to a party, the floor fell in, it was horrible.
"I lost part of my watch and also a large chunk of my knee."
Fire crew manager Craig Egerton said the space under the lounge was "only about two and a half feet deep and all the rubble stopped it collapsing further".
'Safe and habitable'
"Other houses in the street had basements that were much deeper, so if it'd happened in another house, it could've been far more serious," he said.
The property's landlord, who asked not to be named, said a building control inspector had looked at the property since the party, approved it as being "safe and habitable" and found no evidence of dry rot.
He said he had owned the house "for more than 20 years and never had a problem".
"This is an unprecedented number of people to be in the house at one time.
"I have been told by one girl that the party was gatecrashed and when the fire brigade arrived every room was full of people.
"Of course the safety of the students is paramount and it is important that everyone is OK.
"At the end of the day, the students have a responsibility for their own safety and should remember they are representing their university."