New Testament brings comfort to five generations of soldiers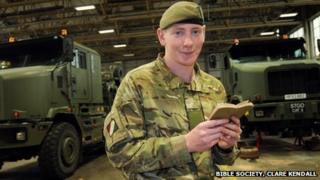 When Pte Curtis Welsby's friend was killed in an explosion in Afghanistan in 2013, he - as many soldiers have done before him - turned to the Bible for comfort.
Unlike the others though, he turned to a copy which has served five generations during five different conflicts.
His Armed Services Testament 1916 has been passed down by soldiers in his family since it was first taken into battle by his great-great-grandfather in World War One.
It then went on to the battlefields of World War Two with his great-grandfather, to Korea with his grandfather and to Northern Ireland with his uncle before it finally journeyed to Camp Bastion with him.
The 20-year-old soldier from Openshaw, Greater Manchester, who serves with the 1st Battalion the Mercian Regiment, said he was "extremely close" to his grandfather.
'Horrible place'
Indeed, it was while he was in possession of the book that it saw its darkest period.
"He was captured in Korea but he kept it the whole time while he was there," he said.
"I think that it gave him a bit of faith that he would get out, which he did thankfully."
Pte Welsby does not know which passages in particular his granddad read but the New Testament does fall open on the book of John and the Acts of the Apostles.
He began reading the text himself while he was in Afghanistan, which he says was "a horrible place".
"You just need something to comfort you a little bit and the Bible did that tremendously."
And when his friend James was killed, it was one particular passage which he turned to - Revelation 21:4, which reads:
And God shall wipe away all tears from their eyes; and there shall be no more death, neither sorrow, nor crying, neither shall there be any more pain: for the former things are passed away.
He says the passage "made me feel good".
"It made me feel quite happy for him thinking, 'It's all right, he's gone to a better place with no more war, fighting or anything.'"
'Calmed me down'
He does admit that there is nothing in the book to help him reconcile himself with one of the hardest realities of being a frontline soldier.
"I don't think there's anything that could put you at ease with doing anything like shooting somebody.
"It's a horrible thing to do and there's nothing that can make it easy to do. But at the end of the day, if you have to, you're going to have to whether we like it or not.
"It's always the same, you never want to do anything like that, but if the situation arises, you have to go through it step by step."
He says while he was in Afghanistan, he kept the book "with me in my pocket all the time and it calmed me down".
"I would pull it out and read it when we went on patrol and I had a tingling feeling go through my body every time.
"Anything could happen. Nobody had a clue what would happen. But, when I picked up my Bible, I felt that nothing would happen to us.
"We got into fire-fights, but we always got out of them."
The same was true of his relatives, as each of the other four men who carried the book returned home from their respective conflicts.
That tradition is one he hopes to pass on when he gives the book to the sixth generation of his family to take it into the armed services - his seven-year-old nephew.
"It's going to him in about 11 years when he joins the Army.
"That said, if I'm still around, I'll be keeping it as I always think it's good luck - he'll have to wait."