Gold thieves target vulnerable Asian families in Manchester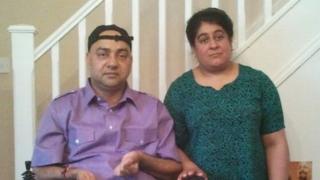 Vulnerable Asian families are being targeted by gangs in Greater Manchester searching for gold and jewellery, said police.
Ten households in Manchester and Salford have been raided by masked attackers over the last two months.
Many of the incidents involved violent demands for gold against young, disabled or elderly people.
Police believe members of the Asian community may know the individuals behind the attacks.
Ch Insp Andy Sidebotham from Greater Manchester Police said: "We are concerned by the threat of violence being used, targeting vulnerable Asian people specifically for their gold.
"Some of the offenders have asked for gold in Punjabi, so within the group there are some Asian offenders."
'Where's the gold?'
Angela Loey was at home in Cheetham Hill on 6 May when three armed men smashed through the patio door with a brick.
"They came in wearing balaclavas and had machetes - they were saying, 'where's the gold, where's the car keys?'
"Whatever jewellery I had on, they took," she said.
She believes someone had been watching the family and knew there was a disabled person in the house.
Angela's husband Sucha Singh was left paralysed after breaking his neck in an accident eight years ago.
"They probably [chose] me because I'm an easy target," he said. "In the day, I'm in the wheelchair and at night-time, carers come to put me into bed."
Mr Singh's 14-year-old son Akash was also at home during the attack.
"The guy grabbed my son in the bedroom and put a big knife to his neck and said: 'Tell me where your mum and dad keep the gold.'
"He was screaming 'Mum, dad, please help, please help'," added Mr Singh.
Since the raid the Singh family have put bars on their windows.
'Feel helpless'
Other police forces have reported an increase in gold burglaries among Asian households during the spring and summer months, traditionally considered the wedding season.
Last month, a string of burglaries were carried out in Blackburn, where thousands of pounds worth of gold was stolen from a number of houses.
Mr Singh, 44, said he has been left devastated by the attack. "What hurts the most is that I feel helpless. I can't even protect my son and wife," he said.
"I think it's a better idea to throw whatever gold and jewellery you have in the bin. At least that way you'll be safe and won't be attacked."
Afzal Khan, a North West MEP and councillor in Cheetham Hill where the Singh family lives, said: "These guys are coming in and have no regard for who they're dealing with.
"The weapons they are using, there's a real fear that if they're not apprehended or arrested, somebody may be killed."