Eleven arrested in £300m Manchester drugs raids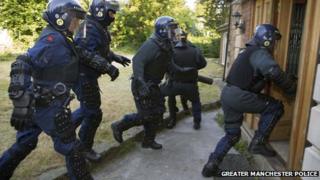 Eleven people have been arrested in raids across Greater Manchester by police targeting suspected suppliers of a drugs operation worth £300m.
Police executed warrants at addresses in Altrincham, Prestwich, Salford and Bolton in the early hours.
Eight men were arrested on suspicion of drugs trafficking offences and three women were arrested on suspicion of possessing class B drugs.
A quantity of cash and drugs were also seized, police said.
Det Supt Jason Hudson, head of operations at Titan, the North West Regional Crime Unit, said the arrests came after a year-long investigation.
He said: "We continue to send a strong message to others involved in this type of crime that we will act on information we receive and we will be knocking on your door."