Prosecutors to release Cyril Smith MP documents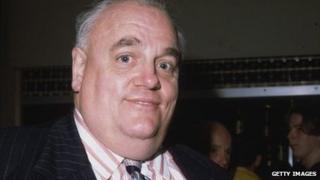 Details of advice given to police which allowed the MP Cyril Smith to escape prosecution for sex offences will be released, prosecutors confirmed.
The Crown Prosecution Service (CPS) has asked for permission for the documents to be amended prior to publication, to protect complainants' identities.
In June a tribunal, led by a judge, ruled it was in the public interest for the information to be disclosed.
Smith, who was Liberal then Lib Dem MP for Rochdale, died in 2010.
The CPS said it accepted the tribunal's decision to release the advice, which dates back to 1998 and 1999.
A spokesman said changes already made to the documents by the tribunal "do not currently provide sufficient protection" to the victims.
"We have therefore asked for permission to amend the documents to protect the victims more. Once this has been resolved, we will release the documents without delay", he said.
Knowl View
The move follows a Freedom of Information Request submitted by journalist Jonathan Corke in 2012.
The request was initially rejected on the grounds the information related to criminal proceedings and was an unfair disclosure of victims' personal data.
In January, the Information Commissioner backed the CPS decision not to disclose the information but this was overturned after a further appeal.
Seven men have alleged they were abused by the former Rochdale MP at a residential school in Greater Manchester, police have said.
Greater Manchester Police has said the men claimed they were abused by Smith at Knowl View in Rochdale in the 1970s and 1980s.
Smith's family said he had always denied the abuse claims.