Two jailed over wedding reception attack in Bolton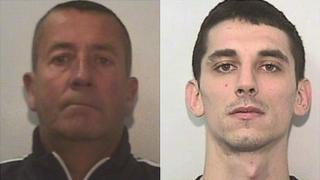 Two men have been jailed over an attack on an elderly couple at a wedding reception which was sparked by a row over noise, police said.
Nicholas Etchells, 52, and Dale Hughes, 27, both of Farnworth, punched a 76-year-old man in the face at the Railway Club, Bolton last year.
As he tried to drive away, they punched him again through the open car window.
At Bolton Crown Court, the pair were both jailed for 18 months after being convicted of assault.
Greater Manchester Police said the argument started when some of the wedding party was told to keep the noise down in the car park of the venue by the elderly man's wife.
'Loutish behaviour'
Sarah Etchells, 35, of Farnworth, punched her in the face. The 76-year-old man, who worked as a voluntary secretary at the Railway Club, was then attacked by the two men.
He suffered black eyes, a cut lip and a cracked tooth.
Etchells, wife of Nicholas, also pulled the hair of a pregnant woman, who intended getting a lift home from the elderly couple.
She admitted three counts of common assault and criminal damage and was given a 12 month community order.
PC Joanne Boyle said the case was a "sad indictment of what can happen when loutish behaviour and alcohol are mixed".