Botulism suspected after Boggart Hole Clough bird deaths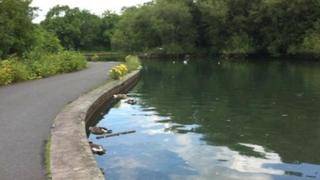 Avian botulism is the likely cause of more than 80 bird deaths at a Manchester park, the Department for Environment, Food & Rural Affairs said.
In the past week ducks, geese and coots have been found dead in the lake at Boggart Hole Clough, Blackley.
Defra said further tests were needed, but the disease was suspected following an autopsy on a bird.
Humans are not thought to be in danger, as the disease cannot be spread by touching or being near infected birds.
Avian botulism is caused by a water-soluble toxin produced by the bacterium Clostridium botulinum and is more often seen in warmer weather.
It was first thought that toxic blue-green algae may be responsible, but Environment Agency water samples found no trace of the bacteria in the water.
Manchester City Council said visitors are being asked not enter the lake or allow their dogs to play in water "as a precaution".
The park covers 190 acres and includes woodland, play areas and tennis courts.