Sex abuse probe into deacon Alan Morris dropped in 2001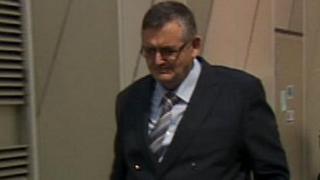 A deacon jailed for sexually abusing pupils at a Greater Manchester school was investigated 11 years before his final arrest, police have confirmed.
The Rev Alan Morris, 64, was jailed for nine years on Thursday for 19 sex assaults when he taught at St Ambrose RC College in Hale Barns, Altrincham.
The offences involving 10 pupils took place between 1972 and 1991.
Police said allegations made in 2001 were not pursued for "sound evidential reasons".
'Prolific sex offender'
In a statement Greater Manchester Police (GMP) said: "[The force] did receive a complaint regarding Alan Morris in 2001, which was investigated and due to sound evidential reasons not pursued.
"Once the new investigation in 2012 began, GMP officers found further evidence in relation to the complaint from 2001 and were therefore able to include this complaint as part of the case against Morris."
After sentencing, Det Ch Insp Chris Bridge said: "For decades Morris displayed a veneer of total respectability; a science teacher in a well-respected and high-performing school and latterly as a deacon of the church."
However, Morris, from Hale, had been "unmasked as a persistent and prolific sex offender", he said.
One of his victims recalled how the "vicious beatings" he suffered became sexual abuse from which he never recovered.
The abuse came to light when an ex-pupil attended a child baptism ceremony involving Morris in 2012 and made a complaint.
Police said the investigation into Morris established four former St Ambrose RC College pupils were abused by another teacher at the school and 10 ex-pupils abused by a third teacher.
Had both teachers been alive they "would likely have been charged with serious sexual offences", GMP said.
Morris was a deacon at Holy Angels Church in Hale Barns at the time of his arrest.