Greater Manchester Police arrest 22 grooming suspects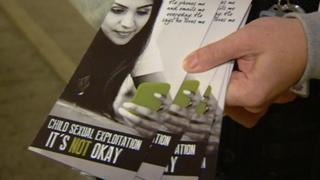 Twenty two people have been arrested as part of a week-long crackdown on child grooming in Greater Manchester.
Police made the arrests after launching It's Not Okay - a campaign to tackle child sexual exploitation and protect those at risk.
The force has been targeting businesses and shops after tip-offs about suspected grooming.
Teams dedicated to dealing with the issue have been set up in each of the 10 districts in Greater Manchester.
Police officers are working with a number of organisations including local councils, charities and the NHS to tackle child sexual exploitation.
'Warning signs'
Assistant Chief Constable Dawn Copley said: "Historically mistakes have been made; however, we are more determined than ever to get it right.
"It is crucial that the children of Greater Manchester understand what child sexual exploitation is, to recognise when this happening to them."
Karl Jones, a trading standards officer for Tameside Council, said: "If you do shop inspections all the time you will see certain things in the stock that [don't] look right, there could be a lot of products attracted [towards] children.
"If you're visiting premises day in, day out, you soon spot if something is out of order and then we would alert police."
"By raising awareness and educating people about the warning signs of child sex exploitation we can encourage people to speak out and all play a part in keeping our children safe," said Greater Manchester Police and Crime Commissioner Tony Lloyd.